Green water forms as soon as the springtime sunshine falls on to the water.
Millions of minute green cells feed on nutrients which have built up over winter in the pond from decaying vegetation - a good reason to 'Spring-clean' the pond each autumn.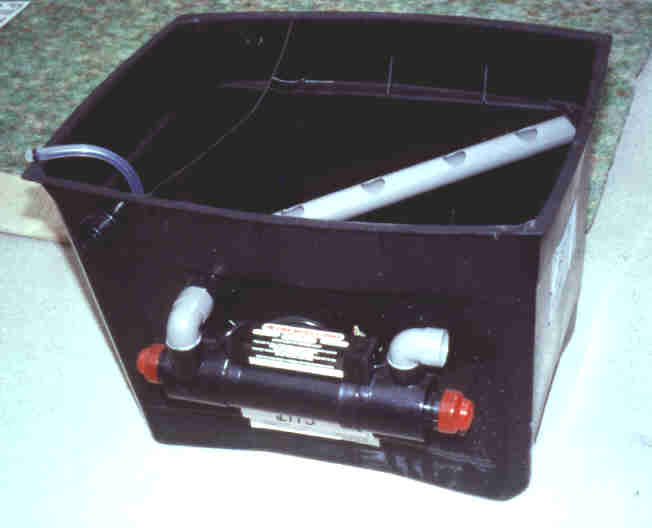 Unfortunately no filter medium is dense enough to strain out the microscopic green cells and still let water through, but the use of an Ultra-violet Lamp (UV) in conjunction with a filter can clear green water quite easily.
As the green water passes by the UV tube, the radiation will cause the cells to die and clump together in sufficiently large lumps which the filter system can then remove.
Renew the UV tube every year and keep the surrounding quartz glass tube clear of debris so that the lamp works to its ultimate efficiency.
NEVER LOOK AT A LIT UV TUBE DIRECTLY
ALWAYS SWITCH OFF THE UV BEFORE PERFORMING ANY MAINTENANCE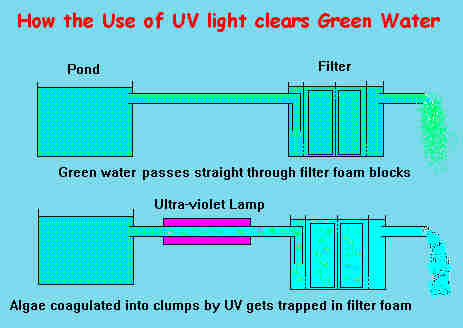 There are other methods of dealing with green water, most of which entail causing the algae to sink to the pond floor or float to the surface in mats.
In every case, the removal of affected algae is necessary before its decomposition depletes oxygen levels in the water. An effective remedy against green water is Tetra's AlgoRem.

Note that Green Water remedies are not necessarily effective against Blanketweed




There are many methods of dealing with Blanketweed: the aquatic equivalent of 'weedkillers' will kill it off but may set back other aquatic plants and you must still remove the dead blanketweed before it depletes the oxygen levels in the water. Interpet's 'Pond Balance', Tetra's 'AlgoFin' and Laguna's Phos X are proven remedies, all safe to use with fish and plants. The ubiquitous 'barley straw' treatment appears to work but it is not always a predictable success in differing water qualities or from one area to another.

Whatever steps one takes, it is always going to be a matter of control rather than elimination; most people fall back on pulling it out by hand - it makes a good mulch and compost!